Sidelines VIP Rewards…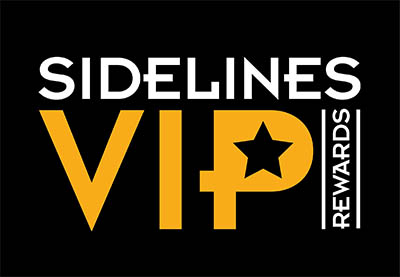 News & Events
Coming Soon!!!
Specials
Specials are for dine-in only and cannot be used for carry-out orders.
Monday
$1.50 Tacos, $2 Jumbo Margarita's (ALL DAY)
Tuesday
Half Rack Dinner - $12.99 (ALL DAY)
Wednesday
10 oz Sirloin Steak - $11.99 (ALL DAY), 1 Free Kid Meal per Adult Meal (ALL DAY)
Thursday
59¢ Naked Wings (ALL DAY, Sylvania, Lambertville, Norwalk & Maumee only), Fowl Ball Platter - $9.99 (ALL DAY, Mellwood & Telegraph only)
Friday
$4 Long Island Ice Tea, Shrimp Dinner - $12.99 (ALL DAY)
Saturday
Grilled Prime Rib, $16.99, 4 Aluminum pints for $10
Sunday
$3 Bloody Mary's, Fowl Balls w/ Fries - $9.99 (ALL DAY), $10.99 Rib Basket (ALL DAY)
Every Day
$3.25 Tall domestic drafts all day, every day!